Personal, Social, Health and Economic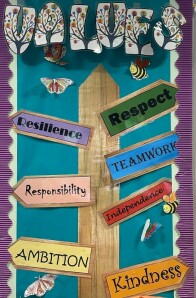 At Great Chart School we recognise that the personal development of pupils, spiritually, morally, socially and culturally, plays a significant part in their ability to learn and achieve.  We therefore aim to provide an education that provides pupils with opportunities to explore and develop their own values and beliefs, spiritual awareness, high standards of personal behaviour, a positive, caring attitude towards other people, an understanding of their social and cultural traditions and an appreciation of the diversity and richness of the cultures.
At Great Chart Primary School we strive to provide a 'value based' curriculum, alongside our knowledge/skills based curriculum. These are not 'bolt-on' extras but a strong ethos of school life. We believe that the development of these values can rarely be 'measured'. Sometimes these are easy to identify and plan for, within the curriculum or in the weekly class circle time sessions, but often opportunities happen spontaneously in the context of stimulating discussions or lessons. Staff need to be confident to recognise and 'seize the moment' and take time to reflect with the children on the learning that is taking place. 
The four areas of the value based curriculum can be defined as follows:
Spiritual development: relates to an awareness of mystery and wonder through which pupils reflect and require insights into their own personal being and their place in the world.
Moral development: refers to a pupil's understanding, attitudes and behaviour to what is right and what is wrong.
Social development: refers to a pupil's progressive acquisition of the competencies and qualities needed to play a full part in society
Cultural development: refers to a pupils developing understanding of beliefs, values and customs in social, ethnic and national groups different from their own.
In addition to these values that represent part of our PSHE/SMSC curriculum, we also have introduced a set of school values that have been decided on by the children of Great Chart School. These chosen values will encourage the children to "Be the Best You Can Be" and will be introduced at the beginning of the school year as one, before each being the focus of individual terms. 
"A Great Place to Discover and Learn Together"
Respect
The core school values are:
Team Work

Ambition

Responsibility

Resilience

Kindness

Independence
The children will be encouraged to keep these values at the forefront of their mind and experience these values through assemblies, circle time and through the teacher infiltrating them into the whole curriculum. It is hoped that through being aware of the importance of these values, the children will leave Great Chart School as responsible citizens of society preparing them for life in Britain and responsible global citizens in the wider world.